We are very pleased you have chosen to continue your education at Southwestern Oklahoma State University (SWOSU)! Below is some information to help as you plan your arrival at SWOSU.
Travel Plans
Plan to arrive at Will Rogers World airport in Oklahoma City (OKC) by the date in your admission letter.
When you have finalized your plane ticket, please complete the Airport Pickup Request Form. We will respond by e-mail with a contact cell phone number so that you can keep us informed as you travel and connect with the person meeting you at the airport.
If you complete the Airport Pickup Request Form, we will plan to meet you at the Oklahoma City (OKC) airport and take you to our campus (a one-hour drive). If you plan make other arrangements please inform us of this.
Don't forget to bring your original certificates, diplomas and transcripts – review your admission letter to see if any specific documents are mentioned!
Before you travel, be sure your passport will not expire for at least six more months.
Keep your passport and I-20 ready to show officials at the airports as you travel.
If possible, travel with some U.S. dollars in cash in case you need snacks or other items. You will also need some cash when you arrive at the university.
As you are traveling, plan to update your family at home if possible so they don't worry too much about you.
E-mail, text or phone the international office about any changes in your travel plans after your trip starts – e-mail international@swosu.edu in case you don't have a phone number for this.
Health Immunizations
All students at SWOSU are required to submit documents showing that they have received immunizations and some medical tests. You received the health immunization form with your SWOSU acceptance letter and I-20. If you need another copy of this form, please inform us. For more information please click on the following [link: http://www.swosu.edu/administration/shs/immune.aspx

]

If you have already had immunizations, please bring documents from your doctor at home for this or use the health immunization form from SWOSU.
Weather Conditions
The climate in Oklahoma includes a warm and sunny summer time from June through August, and a cool, but normally, sunny winter from December through February.
Spring (March – May) and fall/autumn (September – November) are times of weather changes. So it may be cold one day and warm the next, but many Oklahomans say this is their favorite time for weather during the year.
If you plan to arrive in August, remember it is our one of our hottest months and if you plan to arrive in January, it is one of our coldest months. Plan to dress appropriately for your arrival!
Accommodations
You have the option to live in the university dormitories (residence halls) or off-campus in private apartments or houses.
If you choose to live in a dormitory/residence hall, you will need to complete a Residence Hall application and return it. Please visit the Housing webpage for more information and a link to the application.
Private apartments and houses are arranged for by the student. If you think this is the best choice, try to contact current SWOSU international students for more information. You may need to arrange to stay in an area hotel for a few nights while your arrangements are completed. Hotels cost from $50 to $150 per night.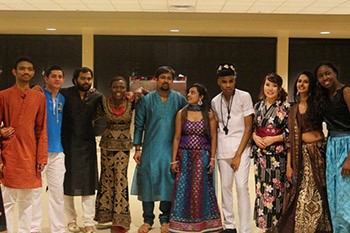 SISA — International Student Association
SWOSU has a club for international students and those interested in global affairs (SISA). Our Facebook page can be found at: https://www.facebook.com/swosu.edu/. You are requested to bring traditional clothing or cultural items from home. SISA will participate in activities that promote various countries and items you might bring will contribute to this.
Visit the International Student Affairs Office
Soon after you arrive on campus, you will need to visit the International Student Affairs office in the John Hays Administration Building, Room 102. Please come as soon as you arrive and before classes begin. At this time, please bring your passport and your original certificates, diplomas and transcripts for us to review.
TAKE A Virtual Tour OF SWOSU.