SAGE STEAM Camp Enriches Oklahoma Students
SAGE (Southwest Alliance for Girls' Enrichment ) STEAM camp is a week-long residential program held on SWOSU's campus each summer that incorporates science, technology, engineering, arts and math (STEAM) into an immersive educational experience for middle school students. Students get hands-on experience in science experiments, art projects, technology solutions and engineering designs.
SAGE STEAM campers have: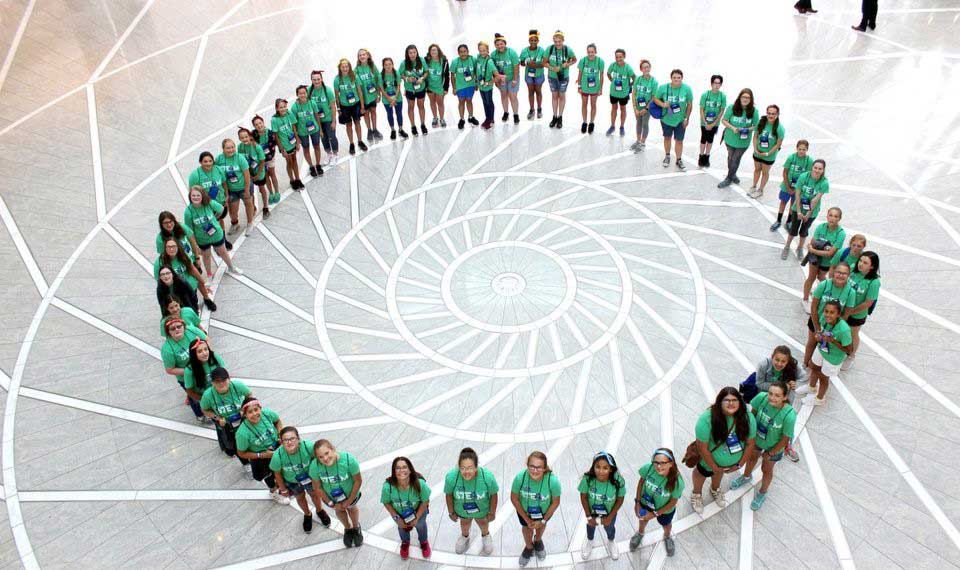 Visited the Devon Tower where they explored virtual reality with a Microsoft HoloLens -- a computer headset which integrates holograms into the real world.

Talked with chatbots (speaking robots)
Examined fossils
Learned crime scene investigation techniques at the Oklahoma City Memorial Museum
Defied gravity at iFly Indoor Skydiving
Other activities have included:
Interactive learning in workshops featuring science, technology, engineering, the arts/humanities, and mathematics;
Exercises that strengthen personal and professional growth and development in middle schoolers
Experiencing STEM and arts/humanities on-site at businesses and locations in and around Weatherford
Field trips to OKC to explore STEM and arts/humanities organizations and industries
Networking with women mentors in STEM- and arts/humanities-related careers at a speed-meeting event
Graduating and being recognized at a closing ceremony and awards program
Interested in Attending?
Support SAGE STEAM
SAGE STEAM Camp offers Oklahoma's middle school students a rare opportunity to experience science, art, math and engineering education outside of the traditional classroom. Campers pay a small fee compared to the actual cost of attending. That's why your support is needed. We don't want any barrier to keep an interested student from attending.
Find out how far your support can go in helping a student attend SAGE STEAM.
Volunteer
Because 90 percent of SAGE STEAM Camp is funded by grants and donations, the camp cannot be done without the help of dedicated volunteers. There are many opportunities for SWOSU students, faculty and staff – as well as for community members, businesses and organizations – to be a part of this camp.
Learn more about what you have to offer SAGE STEAM Camp