Get to Know Us!
We're all here to help you:
Explore your college options
Plan for your academic future
Apply to SWOSU
Enroll in the classes you need
Contact us with your questions.
Mr. Todd Boyd, Director
todd.boyd@swosu.edu
I am a life-long western Oklahoma resident and could probably never move away from here because I enjoy living close to my family. I also love Oklahomans and their friendliness. You can always find me at any SWOSU sporting event. I guess you could say that my loyalties run deep and that I might actually "bleed" blue!
I went to school in Hitchcock, Fay and Watonga, OK. After graduating from Watonga High School, I earned my Bachelor of Education in Mathematics at SWOSU in 1986. While attending SWOSU, I enjoyed being active in the Student Government Association and served on the Executive Council for two years. Upon graduating, I taught and coached for one year at Mayfield Junior High with Putnam City Schools in Oklahoma City. After only being away from Weatherford for one year, I jumped at the chance to return to SWOSU when the opportunity presented itself. I took a job in the High School Relations Office as a graduate assistant and began working on a master's degree. Following my completion of my Master of Education in Mathematics in 1989, I began working as the assistant director of High School Relations. I have continued at SWOSU since that time where I now serve as the director of Admissions and Recruitment.
My favorite vacation spot is Colorado in the summertime — Crested Butte area to be exact. I love to camp, hike and mountain bike while there with my family. My family and I are also frequent visitors of Silver Dollar City in Branson, MO.
Weatherford is just the right size for me and my family and just the right distance from the OKC metro area.
---
Taler Alexander, Assistant Director
taler.alexander@swosu.edu
I was born and raised in Weatherford and my family has been a part of this community for a long time. My parents and grandparents graduated from SWOSU, so it just seemed right for me to become a bulldog after high school. During my time as a student at SWOSU, I was an Orientation Leader and a member of the President's Leadership Class (Class V) along with other clubs and organizations. I graduated in 2014 with a Bachelor of Science degree in Special Education. I began working full-time at SWOSU as the New Student Orientation coordinator. Soon after, I married my husband, Cody. Two years later, I received a Master of Education degree in School Counseling and in the spring of the following year, I became the assistant director of Admissions and Recruitment. I enjoy being a part of campus and student life at SWOSU.
In my spare time, I like to hang out with my husband and our two dogs, Greta and Gus. I also enjoy cooking, baking and helping my family with their catering business.
I love helping students make the transition into college and welcoming them into the Bulldog Family.

---
Mr. Seth Odam, Recruiter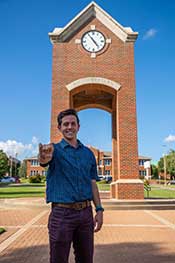 seth.odam@swosu.edu
After graduating from Tuttle High School in 2013, I came to SWOSU without knowing much about Weatherford, but soon fell in love. I dove into the uncertainty of college head first by playing all of the intramural sports, participating in the college ministry at FBC Weatherford, and trying to figure out in what to major. My freshman year I began working as a Student Ambassador for the Admissions and Recruitment office. Working in the office was truly the greatest experience! I could hang out with all of my best friends during work while sharing my love for SWOSU with high school students and their families. Throughout college I was involved in the Healthcare Student Organization as the club vice-president and Student Government Association as the elected student body Treasurer.
I finally decided on Health Science as my major in order to pursue a graduate medical school. I was a Human Anatomy lab assistant for Sue Ball and also conducted research that I presented at NCUR, the National Conference for Undergraduate Research! However, like many college students I was never fully convinced that my major was actually what I wanted to do with my life. I still graduated in 2017 with my Health Science degree and immediately began working as a graduate assistant for the Admissions and Recruitment office while beginning my MBA. One year later I was hired to be full-time staff as an admissions recruiter!
I love all sports and being active. I enjoy playing golf, basketball and going skiing anytime I can. I spend all of my extra energy cheering for the Oklahoma City Thunder, SWOSU athletics and any high school event my people are participating in. I'm active in the student ministry at FBC Weatherford and help lead Life Groups for high school students.
The SWOSU Health Science Department opened many doors for me.
---
Jay Garrett Decker, GEAR UP Specialist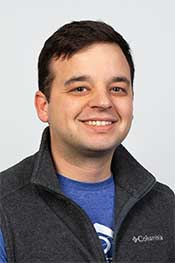 jay.decker@swosu.edu
After graduating from Blair High School, I attended Western Oklahoma State College in Altus, OK, where I received an Associate degree in Agricultural Science. I transferred to SWOSU where I graduated with a Bachelor of Arts in Business Administration. With no clear path of what I wanted to do after graduation, I took a job back home at Western Oklahoma State College, working with their GEAR UP program. I loved the work so much that when GEAR UP moved to SWOSU, I packed up and moved with it! I currently work as a College Coach with SWOSU's GEAR UP program, where I serve Clinton, Duncan and Woodward schools. Working with GEAR UP has awakened my passion for working in higher education. I am currently working toward a master's in school counseling, so I can better assist the students that I serve. My favorite thing about SWOSU is the school pride and college culture! It is so much fun to attend SWOSU events and see students and the community come out to support their local university.
I love being active, traveling, reading, and eating! When I'm not working, you can find me cheering on the Bulldog athletic teams, binge watching The Office, in coffee shops, or scouting out new places to eat.
My job is to help students make the most of their college experience, persist through school, and graduate on time.