January 18-22, 2021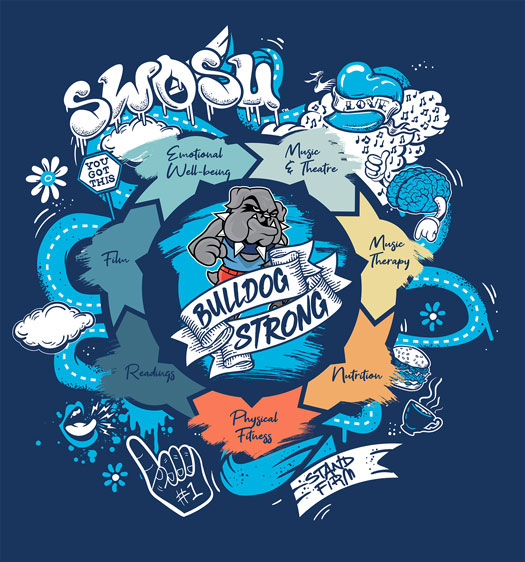 According to the National Center for Emotional Wellness, the term refers to an awareness, understanding, and acceptance of your emotions, and your ability to manage effectively through challenges and change.
Being emotionally well encourages you to slow down and fosters the practice of mindfulness. Being emotionally well doesn't necessarily mean that you're happy all the time, but rather, that you're self-aware and able to shift to feel better. Being emotionally well leads to a happier and more blissful life and allows you the opportunity to attain your full potential.
So how can you work towards emotional wellness? It helps to first identify the things we can control every day.
---
Follow the weekly activities and start building several wins every day so you are emotionally strong!
---
Emotional Well-being Readings
Emotional wellness is as important as mental health and physical health. The three are not separate concepts but thinking about them individually helps us understand them and work toward wellness in manageable pieces.
Emotional wellness underlies our overall health and wellbeing. When we are emotionally healthy, we can deal with all the many aspects of life, including
Coping with unanticipated issues
Daily stressors
Relationships
Work/school
Things that bring us joy and elation
Things that bring us sorrow and pain
STUDY SHOWS WHAT DRIVES EMOTIONAL WELLNESS IN THE BRAIN
interestingengineering.com/study-shows-what-drives-emotional-wellness-in-the-brain
TAO-Therapy Assistance Online
Log on to: thepath.taoconnect.org/local/login/index.php
Let Go and Being Well
Module 1: Introduction to Acceptance
Monday-Session 1: Getting Stuck in Our Thoughts
Tuesday-Session 2: The Six Core Principles of Acceptance and Commitment Therapy (ACT)
Wednesday-Module 2-Session 1: Fusion and Diffusion
Thursday-Module 3-Session 1: Thinking Mind vs. Observing Mind
Friday-Module 6-Session 1: Taking Action
Guided Meditations Interactives
If You Want More Inner Peace Well-being and Happiness Learn to Meditate
There are many types of meditation practices and exercises you can do on your own. There are also activities you can do as part of a group.
Log on to: thepath.taoconnect.org/local/login/index.php
Mindfully Walking Mindfulness Exercise (4:01)
Take a Vacation In Your Mind-Guided Imagery (8:25)